Diwrnod Agored Academi Sgaffaldiau CWIC
Ymunwch â ni am ddiwrnod cyffrous ar Ddiwrnod Agored Academi Sgaffaldiau CWIC! Cynhelir y digwyddiad wyneb yn wyneb hwn ddydd Mawrth 15 Awst 2023 yn Ffordd Amazon, Sgiwen, SA1 8QA. Pa un a ydych yn ddechreuwr neu'n sgaffaldiwr profiadol, dyma'r cyfle perffaith i ddarganfod byd sgaffaldio a dysgu oddi wrth arbenigwyr yn y diwydiant.
Yn ystod y Diwrnod Agored cewch gyfle i archwilio'r technegau, y cyfarpar a'r arferion diogelwch diweddaraf o ran sgaffaldio. Bydd ein hyfforddwyr gwybodus wrth law i roi arddangosiadau ac ateb unrhyw gwestiynau a allai fod gennych. Byddwch hefyd yn cael y cyfle i rwydweithio â chyd-sgaffaldwyr a gweithwyr proffesiynol yn y diwydiant.
Peidiwch â cholli cyfle i gael y profiad gwerthfawr hwn! Rhowch nodyn yn eich calendr ar gyfer Diwrnod Agored Academi Sgaffaldiau CWIC, a byddwch y barod i wella eich sgiliau sgaffaldio. Edrychwn ymlaen at eich croesawu i'r digwyddiad addysgol a diddorol hwn!
CWIC Scaffolding Academy Open Day
Join us for an exciting day at the CWIC Scaffolding Academy Open Day! This in-person event will take place on Tue Aug 15 2023 at Ffordd Amazon, Skewen, SA1 8QA. Whether you're a beginner or an experienced scaffolder, this is the perfect opportunity to discover the world of scaffolding and learn from industry experts.
At the Open Day, you'll have the chance to explore the latest scaffolding techniques, equipment, and safety practices. Our knowledgeable instructors will be on hand to provide demonstrations and answer any questions you may have. You'll also have the opportunity to network with fellow scaffolders and industry professionals.
Don't miss out on this valuable experience! Mark your calendar for the CWIC Scaffolding Academy Open Day and get ready to enhance your scaffolding skills. We look forward to welcoming you to this informative and engaging event!
Yr hyn y gellir ei ddisgwyl
Gweithdai Diddorol: Ymgollwch mewn gweithdai realiti rhithwir ymarferol a hwylusir gan arbenigwyr yn y diwydiant. Mynnwch gipolwg ymarferol ac ewch ati i wella eich sgiliau.
Cyfleoedd i Rwydweithio: Cysylltwch â gweithwyr proffesiynol o'r un anian, ehangwch eich rhwydwaith proffesiynol, ac ewch ati i feithrin perthnasoedd a all roi hwb i'ch gyrfa.
Cyfarwyddyd ar eich Gyrfa: Dewch i gwrdd â'n Hyfforddwyr a'n staff profiadol sydd wedi ymrwymo i'ch tywys ar eich taith. Gofynnwch am gyngor, cyfleoedd datblygu a phrentisiaethau, a darganfyddwch gynlluniau hyfforddi wedi'u teilwra sy'n cyd-fynd â'ch amserlenni busnes.
Y Cyfleusterau Mwyaf Arloesol: Mynnwch daith unigryw o amgylch ein cyfleusterau sydd o'r radd flaenaf ac sy'n cynnwys y dechnoleg a'r adnoddau diweddaraf i gefnogi eich profiad dysgu.
Cyfleoedd ar gyfer Cyllid: Dewch i gwrdd â chynghorwyr lleol CITB yn y digwyddiad hwn sy'n ymwneud â'r Gadwyn Gyflenwi.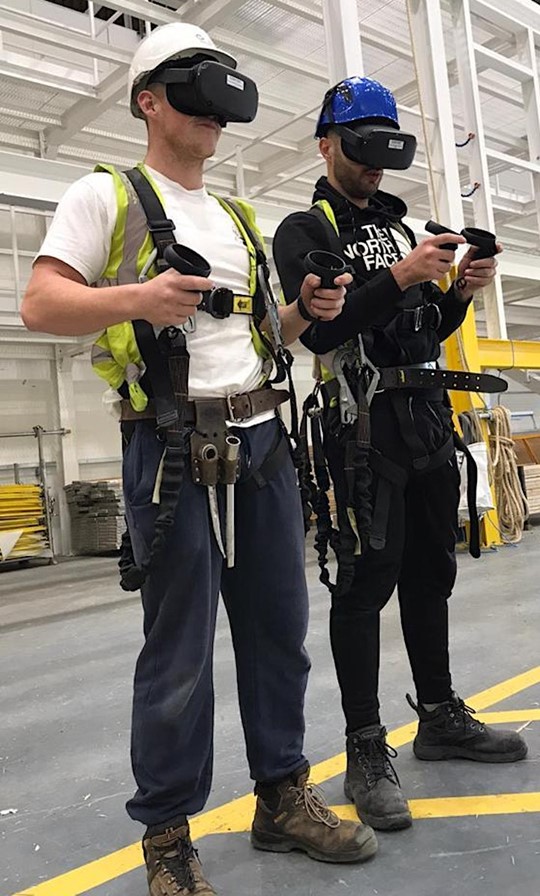 WHAT TO EXPECT
Engaging Workshops: Immerse yourself in hands-on VR workshops facilitated by industry experts. Gain practical insights and enhance your skills.
Networking Opportunities: Connect with like-minded professionals, expand your professional network, and foster valuable relationships that can propel your career forward.
Career Guidance: Meet our experienced Instructors and staff who are committed to guiding you on your journey. Seek advice, development options, apprenticeships and discover tailored training plans that align with your business schedules.
Cutting-Edge Facilities: Get an exclusive tour of our state-of-the-art facilities, equipped with the latest technology and resources to support your learning experience.
Funding Opportunities: Come and meet the local CITB advisors at this Supply Chain event.
Scaffolding Business Forum: Join us in building a hub for employers and independent scaffolders to contact each other with job opportunities
Y RHAGLEN
8-11 a.m. Sesiynau agored: Cwrdd â staff CITB/Gwybodaeth am Yrfaoedd a Phrentisiaethau
11:00-12 Realiti Rhithwir: Gweithio ar uchder/Profiad sgaffaldio
12-12:45 Rhwydweithio i Fusnesau
12:45-13:30 CINIO
13:-30 14:30 Gwybodaeth am Brentisiaid/y Cwrs/Gwobrau Prentisiaid
14:30-16:00 Sesiynau galw heibio agored
PROGRAMME
8-11 am Open sessions: Meet with CITB staff /Career Information & Apprenticeship information
11:00-12 Virtual Reality : Working at Height / Scaffolding experience.
12-12:45 Business Networking
12:45-13:30 LUNCH
13:-30 14:30 Apprentice/ Course information / Apprentice Awards.
14:30-16:00 Open drop in sessions.